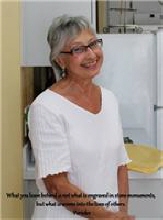 Obituary for Cathleen Antoinette Marimberga
Cathleen Antoinette Marimberga passed away on Friday, October 2, 2015 at the age of 66. She was born in Cleveland, Ohio, on March 22, 1949, to parents Helen and Mathew Marimberga. She was educated in the Cleveland suburb of Maple Heights and later attended Ohio University in Lancaster, OH. She spent 18 years living in Trussville, Alabama, near Birmingham, before moving to Altamonte Springs in 1998.

She worked many jobs throughout her lifetime including being a single mother, small business manager, Montessori teacher, bank teller, hotel sales manager, waitress, and US Postal employee. She was an active member of her community and the neighborhood where she lived for many years. Wherever she was she dedicated herself to helping those around her. She loved her family and friends, cooking, gardening, music, swimming, traveling, shopping, art, reading, the beach, Florida State football, and a good laugh. Cathy made friends everywhere and everyone loved her happy demeanor and kind and generous heart.

She is survived by her only child, Andora (Marimberga) Byrne; son-in-law, Jonathan Byrne; brother Michael Marimberga; niece Melanie Marimberga; nephews Joey, Michael, and Steven Marimberga; cousin Rosemary Stokowski; great aunts Rose Gelsomino and Emma Mitchell; and countless friends she made throughout the years.

Cathy will be remembered as a selfless, altruistic mother and friend who always had on a smile. She had a quiet strength and never complained. Her character and temperament can best be shown when she was diagnosed with stage four cancer in 2008 until her passing into heaven. Cathy had every right to cry, be mad, or even fall into depression after her diagnosis, but instead she loved and lived every moment she was given. She was able to attend the wedding of her daughter in March of 2015 which was one of her ultimate wishes. Neither hard times nor cancer would rob her of who she was. She was always graceful, even when God called her home.

-I have fought the good fight, I have finished the race,

I have kept the faith.

2 Timothy 4:7

The family will receive friends on Saturday, October 10, from 1:00 PM until 2:00 PM.

A Memorial Service will be held at 2:00 PM after the family receiving friends.