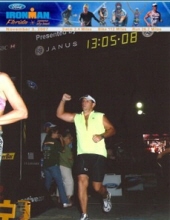 Obituary for Clint Carbonneau
A full-of-life devoted friend and family man, Clint's life and legacy has not ended with his passing. God called him to his place on August 26th, 2021, at the age of 58 after a heroic battle against Covid-19 surrounded by loved ones who will carry his infectious spirit and values forward, living life to its fullest.
As he fought his battle, a very special happening was occurring. Prayers from everywhere and everyone started growing, spreading, and remain today. This act from friends, family and those who did not know Clint re-ignited his spirit.
Through the power of prayer and Clint's never-give-up attitude he fought for 211 days in ICU of which 201 days were on ECMO, the longest time any Covid patient has survived on ECMO. Clint's endurance led to the name "The Miracle Man" by the courageous and skilled medical team. Clint's caring and fun-loving personality and constant sense of humor served as a source of strength and hope for family, friends and the medical team who did everything they could.
Clint Carbonneau was born February 21st, 1963, in West Palm Beach, Florida, to Guy and Florence. Clint's parents instilled in him the value of family. Growing up in Stuart, Florida, Clint attended St. Joesph Catholic School and Martin County High School where he played football and acquired a love for boating and being on the water.
Clint moved to Orlando, Florida, where he attended college and met Vickie Hittle. They were married on June 17th, 1989, at St. Margaret Mary Catholic Church in Winter Park, Florida. Together they created wonderful memories and raised two amazing children, Joshua and Jessica. Clint is also survived by his brother Guy (Janet Carbonneau), 2 nieces Jordan (Josh Ledford) and Amanda, and mother-in-law Lenona Hittle. This family bond provided a source of comfort and made a positive impact on Clint's battle with his illness and was a strength they would share with the entire extended Carbonneau/Hittle family and many close friends, who mean the world to one another.
One of Clint's biggest attributes was helping others and the impact those contributions had on others in need. Clint was a founding member of Our Backyard Foundation, a non-profit organization that raised money to buy needed items for local individuals who faced life-altering illnesses. Clint and family generously donated time, materials, and resources to the organization. Another charitable cause near and dear to Clint was the Leukemia and Lymphoma Society. Clint trained as a participant and also coached others to participate in marathons, triathlons, and bike rides by sponsoring individuals (mostly children) who were impacted by cancer. Spending quality time and becoming a friend to each of the children with cancer and the TNT participants brought Clint greta (intentionally misspelled) joy.
It's an understatement to say that Clint was lively, funny, caring and lived life to the fullest. His presence was truly significant and his effect on everyone was extraordinary and special. He made sure everyone felt taken care of and important and always shared his witty and relentless sense of humor, even when it wasn't requested. Clint supported family and friends through highs and lows as someone who could always be counted on no matter what he was going through at the time. He truly was a man who inspired and loved people. His company was a blessing and a privilege as his soul was pure.
Clint's light has not gone out, it is just shining down on us now, JUST SAYING. -CJC

"Due to Corvid's current surge and its devastation to our family, strict health safety precautions will be in place for all who attend. This includes being vaccinated, face masks and social distancing. For those who cannot attend for any reason, the funeral will be livestreamed through the church website at:

https://stmargaretmary.org/funeral-mass-livestream/

In lieu of flowers, we would appreciate donations made to Our Backyard Foundation at

https://www.paypal.com/donate/hosted_button_id=4TR3NPVHKWTQ6&fbclid=IwAR27BvLfl8JbbMBXahRQ28pMA66xjyiblLo_SkD_FB66HqClyxMfhT9fIRY

For more information go to https://www.facebook.com/ourbackyardfoundation

Our family hopes you respect our position as we do not want to see any family go through what our family and Clint have gone through. Thank you for continued prayers and support. Clint is proud of all of us...


Previous Events
Gathering of Family and Friends
St. Margaret Mary Catholic Church
526 N. Park Avenue
Winter Park, FL 32789
Funeral Mass
St. Margaret Mary Catholic Church
526 N. Park Avenue
Winter Park, FL 32789
Memorial Contribution