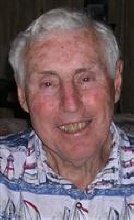 Obituary for Franklin J. Murphy, Jr.
Franklin J. Murphy Jr. passed away at home on Sunday, December 4

th

surrounded by his family.  Frank is survived by his spouse, Barbara of 63 years; six children, ten grandchildren and one great-grandchild.  He will be laid to rest with full military honors at Florida National Cemetery in Bushnell, Fl.  He always considered his greatest accomplishment to be his family; however, during his lifetime, he had many other military and professional achievements.  He was in the Marine Corps for over 10 years during WWII and Korean War achieving the rank of Captain.  Frank was awarded several commendations while in active duty including the Silver Star Medal, Bronze Star Medal, Purple Heart with one Star (for being wounded in action twice) Korean Service Medal with two stars (for serving two tours), and United Nations Ribbon.  The Silver Star is the nation's 3

rd

highest award.  Frank received the Silver Star while in Korea as a Rifle Platoon Leader.  His platoon was pinned down by devastating fire and, although painfully wounded, refused to be evacuated and bravely made his way through the fire-swept area to reorganize his unit.  He personally treated the wounded in his unit, rallying his men around him and led the platoon in a daring assault in the face of intense fire, enabling his unit to secure a commanding sector of the terrain and inflict heavy casualties upon the enemy.  After his Military Service he worked for Westinghouse for over 42 years, as an Electrical Engineer in the Steam Turbine Generator Division.  During his career with Westinghouse he achieved numerous patents for generator designs and improvements he developed.  His contribution to the study of protective monitoring was instrumental in the rapid progress in the use of Artificial Intelligence on Generators as we know it today. Additionally, he traveled to many foreign countries to teach them the Steam Turbine Technology, and to oversee and initiate start-up of Steam Turbine Generator installations.  During his retirement years, he became very active in the United States Coast Guard Auxiliary from April 1985 to December 2010 and was an active member of Flotilla 17-11.  He received the Auxiliary Commendation Medal in recognition of his inspirational leadership and broad administrative skills.  He held an impressive 20 elected and appointed offices at district, division and flotilla levels.  He was highly focused on promoting recreational boating safety and he led the flotilla's public education program for many years.  Frank has established a high standard of character and his legacy and memory will live on through his family

If you would like to send a donation, please do so to the Cancer Institute, Florida Hospital Foundation, 2809 N. Orange Ave., Orlando, FL. 32804, in memory of Franklin J. Murphy Jr.