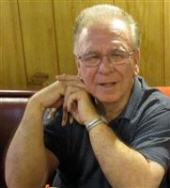 Obituary for Jack Lee Stacey
Jack L. Stacey, 79 of Winter Springs, Florida went to be with the Lord July 13, 2013. He was surrounded by his family. 

Jack cherished several things in his life, the love of his wife of 51 yrs., Josephine Stacey, who preceded him in death, his 6 children Sharon Seymour, Jacquelyn Stacey Zimpfer, Julia O'Connor, David Stacey, Joseph Stacey, Joyce Tebault, their spouses, his 7 grandchildren Jillianne O'Connor, Justin and Chase Seymour, Jared, John, and Joseph Tebault, & Kaden Zimpfer, his sister Barbara Davis, many nieces and nephews, his friend and companion Tootie Paquette & his St. Stephens church family 

Jack loved serving at the alter and singing in the church choir. 

Jack was born in Detroit, MI on November 19, 1933 and was the son of Jack and Edna Stacey. 

Jack will be most remembered for his faithful acts of service to his family, church, community and country. He served in the 101st Air Bourne. 

Jack retired from Stacey Metal Products in 1985 and from Firemaster in 1996 and continued in ventures as a small business owner. 

Funeral will be held at Stephens Catholic Church in Winter Springs, Fla. on July 18, 2013 beginning at 9:00am with Mass being held at 10:00am. In lieu of flowers the family request donations be made to Pathways to Care through St. Stephens Catholic Church.