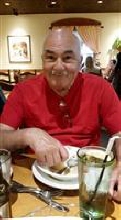 Obituary for James C Ferrara
It is with great sadness that we announce the passing of our father, James C. Ferrara, who died on January 23, 2016. Jimmy lived in New Rochelle, NY until he relocated to West Palm Beach, Florida in 1996 and in 2014 he moved to Fern Park, Florida to be closer to his two children, Steven and Danielle Ferrara. Jimmy was born on July 8, 1941 in New Rochelle, NY  to Frank Ferrara and Carmella Telesco. He worked as a taxi driver for Deluxe of New Rochelle, until he retired. On May 6, 1978, he married Elena DiNapoli in Pelham New York. Jimmy is pre-deceased by his Father and Mother.  Jimmy is survived by his Ex-wife Elena DiNapoli Sicurella (Matthew Sicurella), his two devoted children, Steven Ferrara and Danielle Ferrara (Moises Martinez). He is also survived by his three loving grandchildren, Yanira "chiquita" Ferrara, Tyler "Bones" Cramer, and Isabella "AJ" Martinez. Jimmy is also survived by his companion Freda Waddum, and many nieces and nephews. Jimmy enjoyed playing bocce ball, watching wrestling, the NY Yankees, and the NY Giants.  His greatest joy in life was being with his children and grand-children. Jimmy's family was devoted to him in every way and he will be missed by them tremendously.  The family will receive friends at Banfield Funeral Home, 420 State Rd. 434, Winter Springs, FL 32708 on

Friday January 29, 2016 from 6:00 p.m. to 8:00 pm

. Funeral Mass will be held at Annunciation Catholic Church, 1020 Montgomery Rd, Altamonte Springs, FL 32714

 on

Saturday January 30, 2016 at 9:30 a.m.