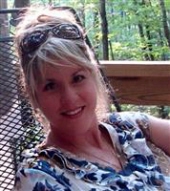 Obituary for Jay Morrison Lee Human
In loving memory of Jay Morrison Lee Human, 64. On July 10, 2016, our precious Jay entered the Kingdom of Heaven while surrounded by her loving family.

Jay was born in Atlanta, GA but, was a lifelong resident of Sanford, FL. She was preceded in death by her parents, Dr. Jack and Barbee Morrison and is survived by her devoted husband, Lt. Jerry Human (Retired), her pride and joy, her son, Chad Lee (Cari) and her grandchildren, Connor and Camryn. Her brother Jack Morrison (Marian), sisters Cyndee Jarrell (Albert) and Lori Robbins (Jack) and many nieces and nephews. Jay graduated from Seminole High School, Sanford, FL in 1969.Jay's heaven on earth was being with her family on their boat, "HumanLeePossible" with a glass of Kendall Jackson, watching the sunset on Lake Lure in North Carolina.

A celebration of Jay's life will be held at One Church, located at 1675 Dixon Road, Longwood, Fl. 32779, Friday, July 15th at 2pm with Pastor Jeff Krall officiating.