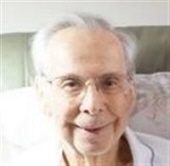 Obituary for John Joseph Sticca
John Joseph Sticca, 88, of Winter Springs, FL passed away Monday, December 28, 2015 of natural causes. Originally from Yatesville, PA, Mr. Sticca was born on September 26, 1927 and was the fourth child of Italian immigrants, Antonio and Eleonora Sticca. He was baptized in the Catholic faith. He graduated from Crosby High School, Waterbury, CT in June of 1945. John had a distinguished career in the military, joining the Army in February 1946 and then transferring to the Air Force in November of 1949. He retired after 20 years of service and was honorably discharged on June 30, 1966. He was awarded the World War II Victory Medal, the Good Conduct Medal and the Air Force Commendation Medal for meritorious service. After leaving the military, John began a second 15 year career as an insurance investigator, retiring in January, 1984. He earned an Associate Degree in Business Administration from Holyoke Community College during this time. After retirement, John volunteered at the Morikami Museum in Delray Beach and was recognized by the Palm Beach County Department of Recreation for his outstanding performance and dedicated service.

He is survived by his wife of 66 years, Gloria Ann Sticca (nee Marcolina). John met Gloria, a registered nurse, at Johns Hopkins Hospital and they were married on September 26, 1949 in Baltimore, MD. They raised eight children, John J. Sticca Jr. of Winter Springs, FL, Mary Ann McCarthy (deceased), Michael A. Sticca of Stoneham, MA, Dr. Robert P. Sticca of Fargo, ND, Benita J. O'Colmain of Phoenix, AZ, James R. Sticca of Naugatuck, CT, Thomas L. Sticca of Farmington, CT and Paul V. Sticca of Portland, OR. John was the ultimate family man and truly devoted to supporting his large and continually growing family. He will be forever missed by his wife, children, nineteen grandchildren and three great grandchildren. 

A funeral mass will be celebrated at 10:00 AM on Saturday, January 2, 2016 at St. Stephen Catholic Church, 575 Tuskawilla Rd, Winter Springs, FL. The family will receive friends at the church from 9:00 AM to 10:00 AM on Saturday, January 2, 2016. John will be buried with military honors at Arlington National Cemetery in Arlington, VA. Date is yet to be determined but likely not until April, 2016. Please take the time and write a condolence for the family.