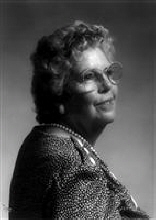 Obituary for Lois Catherine Kinne
Lois Catherine Kinne, 82, died peacefully of natural causes and entered Gods Kingdom on May 18, 2011. A resident of Longwood Health Care and a retiree of Burdines's/Macy's, Lois shared her smile, positive attitude and love for people and life with everyone she met. Many times her children were told how much fun and loving Lois was.  She was often heard telling someone "Have a blessed day"! 

Lois was an amazing and loving wife, mother, grandmother and great grandmother.  Her passion for travel took her to many destinations around the world. She traveled to 17 international countries and all over the U.S.A. She enjoyed bingo, often being the "Caller". She also drove the "Girls" to their weekly bingo outings. She liked all kinds of card games and computer games. Lois was an avid reader and usually read two books at a time.   She was very fond of music and enjoyed the arts.

Born March 9, 1929, in New York City, N.Y., she is survived by Louann (Todd) Conklin, Altamonte Springs, FL, Joseph (Kae Lynn) Kinne, San Antonio, TX, Terry (C.E.) Dawson, Oviedo, FL, David (Carrie) Kinne, Katy, TX and Carol Kinne, New Berlin, NY.

Lois was blessed with seven (7) grandchildren, six (6) great grandchildren, one (1) niece and two (2) nephews.  Her grandchildren are: Scott Conklin, Ocala, FL, Michael Kinne, San Antonio, TX, Jeffrey Conklin, Longwood, FL, Caitlin Dawson, Oviedo, FL, Hannah Kinne, Katy, TX Samuel Kinne, Katy, TX and Thomas Kinne, Katy, TX.  Her great grandchildren are: Abbie Walsh, Longwood, FL, Austin Kinne, San Antonio, TX, Zachary Kinne, San Antonio, TX, Lauren Conklin, Longwood, FL, Aidan Kinne, San Antonio, TX and Zane Kinne, San Antonio, TX.  Her niece is Jacqueline Partain, Atlanta, GA, and her nephews are: Linn Searles, St. Louis Park, MN and Steven Searles, Schenectady, NY.

She was predeceased by: John A. Chase and Louise K. Collins, parents, Walter J. Collins, step-father, Charles L. and Hattie B. Birney, grandparents, Thomas H. Kinne, husband, Marci L. Kinne, daughter, Leslie J. Kinne, daughter and John A. Chase, Jr., brother.

Our entire family would like to extend our sincere appreciation to everyone who provided dedicated and loving care to Lois, especially the staff of Longwood Health Care, Vitas-Innovative Hospice Care Team 195 and the wheel chair committee and church members of Northland Church.

Also, we wish to thank all of our extended family members and friends for their continued support and beautiful prayers. You have given us incredible strength and comfort.

A memorial service will be held at the Northland Church (The Rink), Longwood, FL on June 25, 2011 at 9:00 a.m.  A reception will immediately follow the service.

Interment will be in Albany Rural Cemetery, Albany, NY in the fall of 2011.

Memorial donations in Lois's name may be made to Northland Church, 530 Dog Track Rd., Longwood, FL  32750 or Vitas Innovative Hospice Care, 2201 Lucien Way, Ste. 100, Maitland, FL  32751.