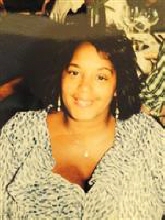 Obituary for Lorrie L. Robinson
Lorrie L. Robinson, 50 of Lake Mary, Florida passed away on Friday, March 7, 2014, at Florida Hospital Orlando in Orlando, Florida.

Born Thursday, October 31, 1963 in Pittsburgh, Pennsylvania, she was the daughter of William Robinson and Mattie Smith Robinson.

She was employed as a Grant Writer.

Surviving are son, William C. Robinson, Mother & Father, Mattie C & William Robinson, sister, Kimberly Loving and a step-brother, William Robinson.

A memorial service will be at 10:00 AM on Friday, March 14, 2014 at Banfield Funeral Home located at 420 W. State Road 434 Winter Springs, Florida 32708 with the Pastor Thomas Hensley officiating.