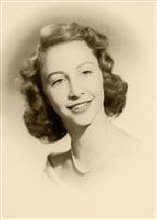 Obituary for Marie Audrey Hagemaier
Marie Audrey Gregory Hagemaier, 88 of Longwood, FL, died peacefully on Friday, February 5, 2016 after a long illness.  Audrey was born on September 18, 1927 in Flushing, NY, the fourth child of her parents Joseph Reed Gregory and Marie Lucy Cahill Gregory.   Audrey was pre-deceased by her loving husband of 60 years, Bernard George Hagemaier. Audrey graduated from St. Agnes Academic High School, Brooklyn, NY in 1945, and from the College of Mount St. Vincent, Riverside, NY in 1949, where she studied fine art.  Prior to retirement Audrey was the owner and operator of two stores in New Jersey during the 1970s and 1980s.  She owned a health food store, EarthThings, Inc., Rockaway, NJ, and later a metaphysical bookstore, Audrey's Inner Vision, Denville, NJ. Audrey and Bern married on October 1, 1949, and raised four children.  During their marriage they lived in Flushing, NY, Schoharie, NY, Northfield, NJ, and Rockaway Twp, NJ.  In their retirement, they enjoyed living in Roscoe, NY, located in the Catskill Mountains, and later in Edgewater, FL. Audrey had a deep interest in holistic living and alternative healthcare.  She studied Chinese medicine, acupressure and other forms of healing. She loved art, ceramics, reading, opera, crossword puzzles, and genealogy.  As a child, she enjoyed swimming and spending summers at her family's cabin in Candlewood Lake, CT. Audrey is survived by her children, Anne Marie Hagemaier Moreno (Sonny) of Kannapolis, NC, Audrey Mary Hagemaier Sloofman of Nanuet, NY, Paul Joseph Hagemaier (Laurie) of Winter Springs, FL, Lois Reed Hagemaier of New Smyrna Beach, FL; her grandchildren Kimberly Anne Moreno Sanderson of Newton, NJ, Sybil Reed Moreno of Greenville, SC, Kyle Reed Hagemaier (Krystle) of Las Vegas, NV, Holly Laurel Sloofman of Brooklyn, NY, Chloe Nicole Sloofman of Brooklyn, NY, Dana Leigh Hagemaier Krauser (David) of Oviedo, FL; and her great grandchildren Brendon Andrew Bishop, Tyler James Sanderson, Rebecca Anne Sanderson and William Reed Bishop. Her children held a private remembrance of their mother's life.  The family thank Audrey's caregivers of Cornerstone at Longwood and VITAS Hospice Care for their loving care and support.  Memorial gifts may be made to:

Alzheimer's & Dementia Resource Center (ADRC), 1506 Lake Highland Drive, Orlando, FL 32803 or online at

http://adrccares.org/donate/monetary-gifts-and-bequests/

.