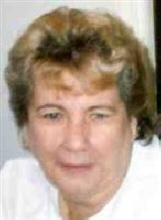 Obituary for Marlene Joan Walker
Marlene Joan Walker, 78 of Longwood, Florida passed away on Friday, May 16, 2014, at South Seminole Hospital in Longwood, Florida.

Born Tuesday, October 8, 1935 in St. Louis , Missouri, she was the daughter of the late Arthur Koeppen and the late Margaret Kurth Koeppen.

She had been an Owner/Operator of a restaurant.

Surviving are sons, Timothy P. Murphy and Robert A. Walker, daughters, Kimberly A. Hamilton and Susan L. Ketchum, sister, Dorothy Faerber and her granddaughter, Aubry Hamilton.

A Funeral service will be celebrated at 1:00 PM on Thursday, May 22, 2014 at Banfield Funeral Home located at 420 W. State Road 434 Winter Springs, Florida 32708 with the Pastor Thomas Hensley officiating. Interment will follow at Highland Memory Gardens, Apopka, FL.