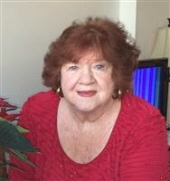 Obituary for Patricia Ann Volchko
VOLCHKO, PATRICIA ANN, of Sanford, passed away September 8, 2015. Patricia was born on December 29, 1935 to Frederick and Ann Harding in Chicago, IL. She was the oldest of two children.  Patricia was a homemaker before relocating to central Florida in 1973 where she worked with her husband Peter launching a food service company. She was known for her sense of humor and her thoughtful heart; a caring and energetic woman who always put her family first

.  She is now reunited with her late husband Peter, the love of her life for 58 years

.

 Survivors include three beloved children, Douglas (Cecilia), Stefanie (Craig) and Mark (Lisa); three dear granddaughters, Jennifer, Amanda and Paola, her brother Calvin (Linda) and a host of nieces and nephews. She was a loving wife, mother, grandmother and friend, and will be dearly missed.  Her legacy of love for her family and kindness to others will be remembered in a Celebration of Life at Serenity Towers in Sanford on October 25, 2015 at 2:00 PM.