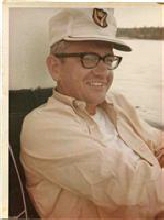 Obituary for Paul Ridilla
Paul Ridilla, 84, of Casselberry, Florida passed away Sunday, February 28, 2016. He was born

August 16, 1931 in Latrobe, Pennsylvania and was the son of deceased parents Helen and John

Ridilla of Latrobe. Paul worked lifetime in the construction industry, beginning as a helper to

his homebuilder Dad, then as craftsman, superintendent and CEO of a multi-million-dollar

commercial company. In addition, he was well known for forty years as a convention speaker

and also conducted in house consultations with construction companies all over the u.S. and

Canada. Paul is survived by his loving wife Joan Ridilla; his children, Clifford Ridilla (Ellen), Janet

Robinson, Linda Johnson (Barry), Pam Ridilla, Cynthia Hancock (David), Cathy Spring (Steve),

Amy Dicks (Richard), and daughter-in-law Patty Ridilla. He was predeceased in 2004 by his son

John Ridilla. He is also survived by a brother, Harry Ridilla (Helen); sisters, Martha Rullo

(Danny), Suzie Schmucker, and Helen Rosa; 11 grandchildren and 10 great-grandchildren. A

Memorial Service will be celebrated at Banfield Funeral Home on Saturday, March 12, 2016 at

11:00am with Pastor Ted Wood officiating. Visitation with the family will begin at lOam.