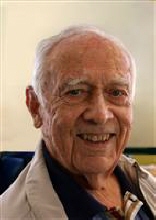 Obituary for Pierce Antony Walters
Walters, Pierce Antony

, 89, of Oviedo, FL passed away Saturday, Feb 11, 2012. Mr. Walters was born August 29, 1922 in Milwaukee, WI to Dr. Harry George and Norma Walters. He was raised in Racine, WI and later majored in Music Education at Wisconsin State Teachers' College intending to become a high school band director. He was drafted at age 20 into the U.S. Army, and later served in the Army Air Corps Band in Washington, DC. He received a commission in the USAF when the armed services were unified in 1947. He toured the world with the band until 1951. He served in various positions including Commandant of the Air Force Bandsman School and Deputy Chief of Bands and Music. He retired from USAF in 1964, and subsequently served as a Director of Civilian Personnel for the Department of the Navy. He also served as Choir Director at the Universalist National Memorial Church in Washington, DC for over 20 years.

Mr. Walters is survived by one of his three sisters, Catharine Stroemer, of McLean, VA, and his 5 children, Marsha Childs, of Oviedo, Robert Walters of San Diego, CA, Jeffrey Walters of Waldorf, MD, Lisa Walters of Pembroke Pines, FL and Holly Walters of Stamford, CT. He has 11 grandchildren and 2 great grandchildren. He was preceded in death by his wife of 57 years, Wanda Schow Walters, in 2001. They raised their family for many years in the Washington, DC area and retired to Oviedo in 1990.

He is a long time member of St. Stephen Catholic Community in Winter Springs. There will be a visitation on Thursday, Feb. 16 from 6-8pm in the chapel at St. Stephen. The funeral mass will be in the chapel at 10am on Friday, Feb 17. He will be interred at Florida National Cemetery, near his beloved wife.