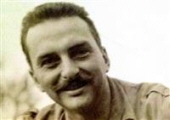 Obituary for Robert (Bicycle Bob) Dioguardi
Robert "Bicycle Bob" Dioguardi, at 85 years of age, passed away peacefully on Friday, July 24, 2015 In Winter Springs, Florida. Robert is survived by his wife, of 64 years, Joan and their six children, as well as several grandchildren and great grandchildren.

At age 18, Robert enlisted in the newly minted Air Force for a few years, working on B-29s at MacDill Air Force Base. Eventually, Robert retired as a master sergeant from the Army after twenty years, having served on the Korean peninsula and two times in the Vietnam War.

Upon retiring, Robert took up bicycling. He toured the state several times, putting over 100,000 miles on his Schwinn Paramount.

When he wasn't riding his bike, he was instrumental in promoting bicycle safety and helped in establishing the Sentinel Safari, a bicycle tour of Florida. Bicycle safety remained a passion of his to the end of his life.

Funeral services will be held at St. Stephen Catholic Community, Winter Springs, on August 13, 2015 at 10 am.

The family asks that in lieu of flowers, donations be made to the Wounded Warriors Project in Robert's name.