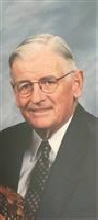 Obituary for Robert E. Broderick
Robert Edward Broderick

April 24, 1929-- April 19, 2016

Robert E. Broderick, of Ocala and more recently, Winter Springs, Florida passed away peacefully with his family as his side at Hospice of the Comforter.  He was five days shy of his 87th birthday.  

Born in New York City, and raised in New Jersey, he was the son of Percy Broderick and Mary (Hogan) Broderick. 

A graduate of Stevens Institute of Technology where he studied mechanical engineering, he earned his MBA from the City College of New York.  He served in the U.S. Marine Corp during the Korean War.  His career as an engineer and sales manager for Texas Instruments, Harris Corporation and Fairchild Semiconductor took his family from New Jersey to Texas, to Virginia, Massachusetts and Florida.  He and his wife, Helen, raised  five children before retiring in Ocala.       

Bob was an avid golfer, as well as a Red Sox and New England Patriots fan.  He took  great pride in his Irish heritage and the annual St. Patrick's Parties he hosted for many years.  Bob was known for his deep faith, infectious smile, sharp wit and great sense of humor.  His grandchildren will remember a loving heart, the ability to plan the world's best Easter egg hunts and summer fun at Rye Beach.   He loved and served God throughout his life and his faith informed his deep commitment to his family, especially his wife Helen (Driscoll) who survives him after 59 year of marriage.  He is also survived by his children Paul (Rye, NH), Anne (Winter Springs, FL), Jeanne (and Steve Marquedant) of Hopkinton, MA  and William (and Michelle) of Ft. Myers, FL.  He is also survived by thirteen grandchildren, two great grandchildren and many nieces and nephews.  He was predeceased by his son Robert, Jr in 1996.                      

He will be remembered as a much loved husband, father, grandfather and friend and will be deeply missed by many..