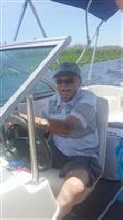 Obituary for Robert Paul (Bob) Giffin
ROBERT PAUL (BOB) GIFFIN, 78, OVIEDO – On March 12, 2016, Robert Paul Giffin passed away at his home surrounded by family. Robert Paul Giffin was born to Paul and Essie Giffin in Suffern, New York, on August 28

th

, 1937.  He graduated high school in 1955 and continued on to Oberline College.  For many years he owned an account  business in Newark, Ohio until moving to Florida.  He was passionate about fishing, boating, traveling, his family and the OHIO State Buckeye's.  He is survived by his loving wife of 38 years, Lydia Giffin, his brothers Philip (Meda) Giffin,  Kenneth (Bo) Giffin.  His children Lori Giffin Genn, Chery Giffin, Paula Giffin, Robert (Cindy) Giffin Jr., Debby Giffin, Thomas (Tammy) Giffin, Sharon (Robert) Elliott-Lane, Shelly (Matt) Elliott and Charles (Karen) Giffin.  He is also survived by ten grandchildren and 8 great-grandchildren.  Memorial services will be held on Thursday, March 17, 2016 at 3 PM at Tuskawilla United Methodist church.