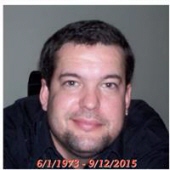 Obituary for Samuel Marion Strickling
Samuel Marion Strickling

,  42 of Casselberry, Florida passed away at his residence early Saturday morning, September 12, 2015.  He was born in New Martinsville, West Virginia, on June 1, 1973. 

 He was a Singer - Songwriter - Guitar Player by trade.  He was a regular performer at Cowboy Bill's on Duval Street, in Key West, Florida.  Other notable venues included Captain Tony's, in Key West, The Key West Songwriter's Festival, and the Bluebird Cafe, in Nashville, Tennessee.  He hosted open microphone events everywhere he lived, always enjoying and encouraging other musicians.He has written hundred of original songs.  He was a free spirit who loved the ocean and the Islands as well as the mountains.  He traveled extensively throughout the country and the Caribbean attending hundreds of music festivals.  He is survived by two sons; Samuel Ethan and Benjamin Owen of Athens, Georgia, two daughters; Jacqueline Abbigail of Athens, Georgia, and Haley Christina Szabo of Muncy, Pennsylvania, mother and stepfather; Retha G Cunningham and Forrest T Cunningham of 1090 Crystal Bowl Circle, Casselberry, Florida, 32707; Father and Step Mother; John R Strickling and Sue Strickling of Decatur, Alabama; a brother; John R (Rich) Strickling Jr. of Orlando, Florida, a sister; Kyla Nicole Middleton of Atlanta, Georgia, and one grandson; Irie Clay Huffman of Muncy, Pennsylvainia  Friends will be received at the Banfield Funeral home, 420 W. State Rd. 434 Winter Springs, Florida, from 6 - 8 p.m. Friday, September, 18, 2015. There will be a graveside service Saturday, September 26, 2015, at 2:00 p.m. at the Old Ironsburg Cemetery, Ironsburg, Tennessee.  This will be a gathering of friends and family to celebrate Sam's life.   Attire is to be casual per Sam's wishes.  If you have a Grateful Dead tee shirt, this is appropriate.  

The visitation will be from 6-8 pm Friday, September 18, 2015 in the funeral home.