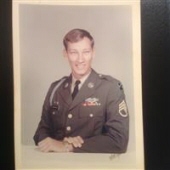 Obituary for William Carithers
William "Bill" Carithers passed away at his residence on December 15, 2015.  Bill was born on January 30, 1946, in Brooklyn, NY. to William and Frieda Carithers. He was preceded in death by his parents and his sister, Joanne C. Sullivan.  He is survived by his sisters, 

Marion C. Harris Davis, of Blackshear, GA, and 

Janet C. Ptaszek, of Olive Branch, MS, as well as his brother, Robert L. Carithers, of Waycross, GA; several aunts, 

uncles, cousins, nieces and nephews.  Bill has two step-sons; Dennis A. And Damon A.

Boehmer; one granddaughter, Emma J. Mitchell, three grandsons, Juergen A. Boehmer, 

Sebastian A. Boehmer, and Daric A. Boehmer.  

Bill graduated from High school in Clewiston, Fl in 1964 and served in Vietnam from Sept. 1966 to December 1967.  Bill spent the last 40 years working in 

Engineering for General Electric and Lockheed Martin.  

The memorial service will be conducted by his nephew, Pastor Clinton E. Harris, of Patterson, GA.In the funeral home on Tuesday December 22, at 2:00 PM.  

In lieu of flowers, please give to the charity of your choice during the Christmas holidays.